UNIDAD DE ESTADO SOLIDO SAMSUNG 840 SERIES 120GB
Product Code:
SAMSUNG 840 SERIES 120GB
Reward Points:
0
Availability:
In Stock
Price: $1,599.00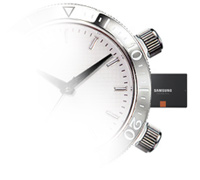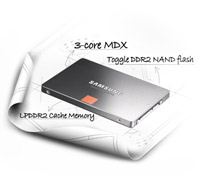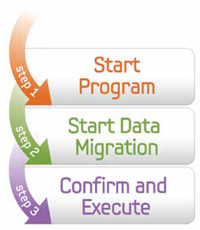 The Single Best Upgrade for your PC
Upgrading your PC with a Samsung 840 is the most economical way to breathe new life into an aging PC. The 840 reads, writes, and multi-tasks at incredible speeds, enhancing boot-up, application loading, and multi-tasking performance. It's more than an upgrade--it's a complete transformation of your PC. This SSD has a capacity of 120 GB.
Smoother Performance and Faster Boot-Up
The 840 reads, writes, and multi-tasks at incredible speeds, giving you performance you never thought possible from your PC. Its blazing-fast performance is optimized to improve everyday PC productivity, including web browsing, email, multimedia, and gaming. In addition, the 840 Series SSD enables your PC to boot up in as little as 10 seconds.
Carefully Engineered and Fully Encrypted to Protect Data
Engineered for reliability, the 840 Series SSD gives you the latest in Samsung memory technology with the highest-quality manufacturing standards. The 840 is made from 100% Samsung components, the world's #1 memory manufacturer.
And the 840 has no moving parts, which means no hard drive spin-ups, no noise, and superior data protection. To further protect your data, this SSD offers AES 256-bit full disk encryption for worry-free data security.
Sleek, Lightweight, and Energy Efficient
At only 7 millimeters thick and weighing just 2 ounces, the 840 Series SSD has a thin, lightweight design that can make your laptop lighter to carry.
And because it contains no moving parts, the ultra-energy-efficient design consumes significantly less battery power, and allows you to enjoy up to 50 minutes longer laptop battery life than a standard hard disk drive (HDD) or competitor SSD.* This product also supports Device Sleep mode for Microsoft Windows 8 to help reduce power consumption.
Simple Data Migration
Samsung's Smart Data Migration software is included to make it safe and easy to migrate your data and operating system from your existing drive to the 840 Series SSD.
Product and Warranty Details
This SSD has a usable capacity of 120 GB, offers 256 MB of Samsung DDR2 SDRAM cache memory, and has a SATA 6b/s interface that is also backwards compatible with SATA 3 Gb/s and SATA 1.5 Gb/s. It measures 7.00 by 69.85 by 100.00 millimeters (H x W x D) and weighs 62.5 grams.
The 840 Series SSD is backed by a three-year warranty.
Package Contents
840 Series SSD, Samsung Data SmartMigration Software, Samsung SSD Magician software, manual CD, and quick user manual.


Capacity
120 GB
250 GB
500 GB
Drive Only
MZ-7TD120BW
MZ-7TD250BW
MZ-7TD500BW
Drive and Installation Kit**
MZ-7TD120KW
MZ-7TD250KW
MZ-7TD500KW
Type of Drive
Solid State Drive (SSD)
Form Factor
2.5-inch (Reduced 7mm thickness for use with ultraportables and netbooks)
For Use With
Desktop and laptop PCs (including ultraportables and netbooks)
Interface
SATA 6Gbits/s (backwards compatible with SATA 3Gbits/s and SATA 1.5Gbits/s)
Random Read Speeds
86K IOPS
96K IOPS
98K IOPS
Sequential Read/Write Speeds
530 MB/s / 130 MB/s
540 MB/s / 250 MB/s
540 MB/s / 330 MB/s
Controller
3-Core Samsung MDX Controller
Type of NAND Flash
2xnm Samsung Toggle DDR 2.0 NAND Flash Memory (400Mbps)
Type of Cache
256MB Samsung LPDDR2 SDRAM
512MB Samsung LPDDR2 SDRAM
Included Software
Samsung Magician 4.x, Samsung Smart Data Migration software
** Installation Kit also includes 3.5" bracket with screws, SATA data and power cables, mounting spacer, and SATA to USB adapter cable
Dimensions
0.28 by 2.75 by 3.94 in. (H x W x D)
Warranty
3-Year Limited
Write a review
Your Name:
Your Review:
Note: HTML is not translated!
Rating:
Bad
Good
Enter the code in the box below: