SUPER LUCE RGB SYNC Series DDR4 Gaming Memory
Nowadays hardcore gamers not only seek solid performance but also demand beauty when they are building their ultimate gaming rig. Born to cater to these gaming enthusiasts, the GeIL SUPER LUCE RGB SYNC series provides all the appealing elements they seek – extreme performance, the fanciest RGB lighting effects, as well as optimal compatibility.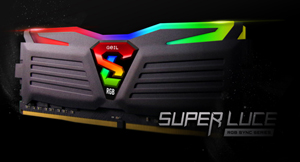 Extreme Performance from 2133MHz to 3200MHz
Starting at a clock speed of 2133MHz and scaling up to 3200MHz, GeIL SUPER LUCE RGB SYNC series lets you enjoy a faster computing experience for gaming, video & image editing, and other professional applications.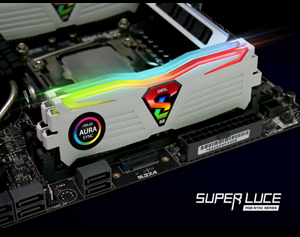 Perfect RGB Lighting
Inheriting the stylish design from the previous generation, SUPER LUCE RGB SYNC series upgrades the LED lighting effect from single color LED to RGB LED, providing the fanciest lighting effect for gamers looking for RGB memory products without cable management.
Perfect Synchronization
Perfectly supporting ASUS AURA lighting control app, SUPER LUCE RGB SYNC allows users to enjoy the seamless synchronization of RGB lighting effects from the motherboard, graphics card, light strips, and memory kits. The cable-less design is a great plus to simplify the cable management.
Highly-efficient Thermal Solution
The heat spreader delivers superior heat dissipation for reliable performance. It's available in Stealth Black and Frost White colors. Together with the RGB options, you should be able to find a combination that matches the rest of your setup.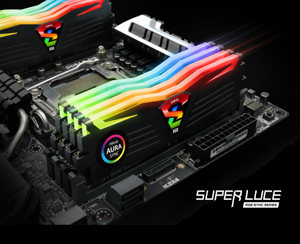 Rigorously Engineered for Full Compatibility
SUPER LUCE RGB SYNC series is optimized for Intel Z170/270 and X299 chipsets. To guarantee full compatibility, it's also available in AMD Edition modules that have been verified across a large number of AM4 motherboards and AMD Ryzen processors.